Basement Waterproofing, Foundation Repair, Concrete Leveling, Crawl Space Encapsulation Company of North Carolina
Serving Fayetteville, Wilmington, Jacksonville & nearby areas

Customer Review
By Alvin B.
Raleigh, NC

"Job well done and much appreciated!"

By Chyrl D.
Raleigh, NC

"Price was considerably lower than the competition. The owner didnt make me feel any pressure. He took the time to explain..."

By Herb
Raleigh, NC

"My initial impressions of the company are very good; however it is still too early to give a full evaluation since it will be..."

By Michael T.
Cary, NC

"NICE work! Please keep it up!"

By Stephanie C.
Cary, NC

"Very Satisfied, i like the financing program and they were cheaper than the competitors"
Southeast Foundation & Crawl Space Repair is your local foundation repair, basement waterproofing and crawl space contractor in southeastern North Carolina.
Our services include all of the following:
Now Serving You in Wilmington and Clinton!
Expert Foundation Repair, Basement Waterproofing, Concrete Leveling, and Crawl Space Encapsulation Contractors
We specialize in solving foundation issues in residential, commercial and industrial buildings as well as crawl space water problems, lifting uneven concrete, basement waterproofing solutions, repairs and moisture control.
We also repair leaky wall cracks in foundation and basement walls with FlexiSpan®, a patented wall crack repair system.
Is Your Crawl Space Making You Sick?
The quality of air in your crawl space will affect the air quality in the living areas of your home. High humidity levels in your crawl space give mold a place to reproduce, thrive and produce airborne spores by the millions.
And some of these molds are toxic! In fact mold is one of the leading causes of health problems in people who suffer from allergies and asthma.
Nationally Certified Contractor
Southeast Foundation & Crawl Space Repair has been repairing foundations since 2003 and has an excellent reputation in the community and with the Better Business Bureau.
As a member of two international contractor networks: Foundation Supportworks, Inc. and Basement Systems, Inc., we benefit from the collective research and support of experts worldwide!

Basement Systems - We are members of the world's largest network of basement waterproofing contractors who are experts at fixing wet basements, with patented and award-winning waterproofing and basement environment products.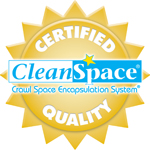 CleanSpace Crawl Space Encapsulation - We are members of the largest network of crawl space contractors that install the award-winning crawl space vapor barrier and moisture control system.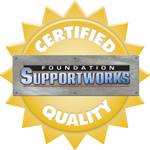 Foundation Supportworks - We are members of an international network of foundation repair contractors with the full support of on-staff geo-technical and foundation repair specialists, and the industry's best products - wall anchors, concrete lifting foam, and foundation piers made with galvanized steel and sporting a state-of-the-art design.
Our North Carolina Service Area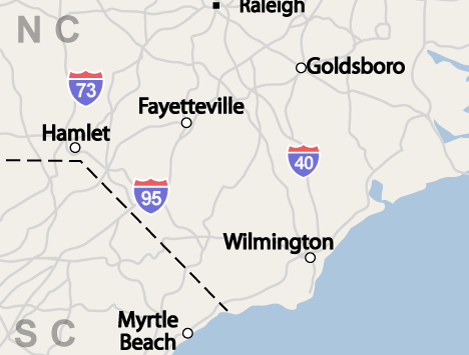 Southeast Foundation & Crawl Space Repair offers basement waterproofing, crawl space repair and foundation repair services in southeastern North Carolina area, including the Greater Wilmington and Fayetteville, NC areas.
We also serve Jacksonville, Lumberton, Wilmington, Fayetteville, Lumberton, New Bern, Goldsboro, Fort Bragg, Havelock, Myrtle Beach, Kinston, Laurinburg, Clinton, Hope Mills, Camp Lejeune, Spring Lake, Whiteville, Dunn and all areas nearby.
We offer FREE, NO-OBLIGATION written estimates for homeowners within our area. Each estimate includes an on-site foundation estimate, personal consultation and written quote.
Call or contact us by e-mail today to get started!
Please NOTE: Before any foundation repair work is started, we will have a licensed engineer review our proposed plans and approve our final structural designs.
Looking for a price? Get a no cost, no obligation free estimate.