SMART VENT® Flood Vents Near Greenville, Wilmington, Fayetteville
Reduce your flood insurance costs and protect your foundation from flood damage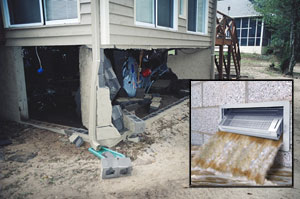 During a flood, it's better to equalize water pressure than to fight it. Flood vents (shown at right) can help avoid severe foundation damage by allowing flood waters to pass through foundation walls rather than pounding against them.
Superstorm Sandy made everyone more aware of the damage that can be caused by flooding –especially in areas close to the ocean. Because meteorologists are predicting an increase in extreme weather in the future, it's smart to protect your home from damage caused by floodwaters.
Having SmartVent® Flood Vents installed can help to prevent your foundation from being severely damaged by floodwaters. Flood vent installation also has the potential to lower your flood insurance premium significantly. Homeowners who had their premiums lowered after flood vent installation enjoyed an average savings of 83% on their flood insurance policies.
SmartVent® Flood Vent benefits
Meets building code, FEMA & National Flood Insurance Program requirements.
Models available for both vented and sealed crawl spaces.
Flood Vents for sealed crawl spaces include insulation and weather stripping for enhanced energy efficiency.
8-in. X 16-in. vent size matches standard crawl space vent openings.
Suitable for new construction or retrofit applications.
Mounting flange makes installation quick and easy.
5 different finishes available to match house colors.
Stainless steel construction to resist corrosion.
Automatically activated by flood water; no electricity required.
Each vent protects 200sq.ft. of enclosed area.
Made in America.
Flood Vent models available for installation in garage doors, wood-framed walls and other locations.
During a flood, SmartVent® Flood Vents open automatically to equalize water pressure
During a storm surge, floodwaters can impose extreme loads against foundation walls. The force of floodwaters and waves can cause a foundation wall to cave in or collapse. Once this happens, the entire house is exposed to more severe damage. The most effective way to blunt this destructive force is to provide a path through foundation walls so that water pressure can equalize inside and outside the foundation. SmartVent® Flood Vents perform this task flawlessly.
When floodwater comes into contact with the vent, an internal float mechanism unlatches the door, allowing it to pivot open. Unlike a screened vent that will trap debris and impede water movement, the Flood Vent provides a clear, clog-free opening that allows floodwater to flow in and out. The vent stays open as long as the water level is high enough to reach the vent opening. Watch the SmartVent® Flood Vent in action.
SmartVent® Flood Vents come in two styles
Insulated flood vents are ideal for sealed crawl spaces and insulated walls –any application where flood protection is desired but ventilation is not. With this style of flood vent, the vent door is made from rigid foam insulation surrounded by a durable skin of 316 marine-grade stainless steel. In the "closed" position, weather stripping around the door keeps exterior air out of the crawl space.
Alternatively, it's possible to have SmartVent® Flood Vents installed that contain operable louvers for controlled ventilation into the crawl space. The louvers automatically pivot open or closed based on exterior temperature. For durability and corrosion resistance, louvered SmartVent® Flood Vents are also constructed from 316 marine grade stainless steel.
Use SmartVent® Flood Vents in foundation walls and other locations:
Crawl space & basement walls
Garage walls and overhead doors
Enclosed walls in breakaway foundations
Be certain, safe and smart about flood protection. Call today for a free foundation inspection and SmartVent® Flood Vent estimate. Call 1-833-843-7430.
Looking for a price? Get a no cost, no obligation free estimate.